Well, this is the end of the crappy eating and laying around like a slug. LOL! I gave myself until New Year's Day before getting myself back into the healthy eating/exercise program. I start tomorrow...kinda.
I got a Wii Fit for Christmas, so tomorrow is Day 1 of Wii Fit. I anticipate us shortly becoming BFFs. But, we may be doing "Christmas" with the in-laws tomorrow night and I'm not cooking. So, this means tomorrow may be more focused on my exercise regime than the healthy eating, since I have no idea what's on the menu. I can make sure I eat reasonable amounts, but I can't control what I'm eating. So, tomorrow will be the kick-off to exercise.
I did start the self-improvement portion of my challenge to myself. For Christmas I got the following books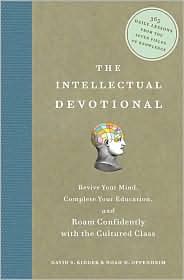 This daily digest of intellectual challenge and learning will arouse curiosity, refresh knowledge, expand horizons, and keep the mind sharp
Millions of Americans keep bedside books of prayer and meditative reflection—collections of daily passages to stimulate spiritual thought and advancement. The Intellectual Devotional is a secular version of the same—a collection of 365 short lessons that will inspire and invigorate the reader every day of the year. Each daily digest of wisdom is drawn from one of seven fields of knowledge: history, literature, philosophy, mathematics and science, religion, fine arts, and music.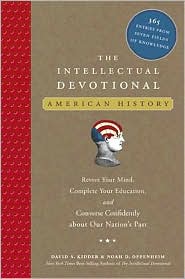 Now authors David Kidder and Noah Oppenheimer have turned to the rich legacy of American history for their selection of daily readings.
From Thomas Jefferson and Ben Franklin to Martin Luther King, Jr. from the Boston Tea Party to the Gettysburg Address, the giant figures and pivotal events in our national heritage provide a bountiful source of reflection and learning that will refresh knowledge, revitalize the mind, and open new horizons of intellectual discovery.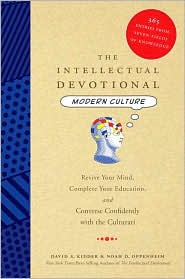 In the tradition of the instant bestsellers The Intellectual Devotional and The Intellectual Devotional: American History comes the third installment in this indispensable series. In The Intellectual Devotional: Modern Culture, the authors explore the fascinating world of contemporary culture to offer 365 daily readings that provide the essential references needed to navigate the world today.
Quench your intellectual thirst with an overview of the literature, music, film, personalities, trends, sports, and pop references that have defined the way we live. From the Slinky to Star Wars; Beatlemania to Babe Ruth; flappers to fascism—refreshing your memory and dazzling your friends has never been easier, or more fun. Whether you're a trivia genius, pop-culture buff, or avid reader, you'll be riveted by this comprehensive journey through contemporary culture.
Today, I read about Freud, the alphabet, and John Smith. I really look forward to reading these three books each night. I'm sure once class starts on the 12th, I'll be reading it before bed, but I will continue to read them. I've been looking forward to these books ever since I got them on Christmas.